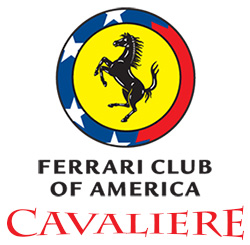 Cavaliere of the Ferrari Club of America
At its annual Board meeting on March 3, 2013, the FCA Board of Directors approved the establishment of a special Cavaliere designation to be awarded to current and/or former members who have significantly contributed to the greater benefit of the Ferrari Club of America over an extended period of time. This is a very select group of individuals who have consistently gone well beyond normal expectations of time and effort to ensure the success and growth of the Club in ways that have greatly enhanced the membership experience across the entire Club. (Cavaliere is Italian for Knight.)
For 2013, all of the original Founders of the Club were automatically inducted as Cavaliere. In addition nine outstanding individuals were also elected and inducted at the 2013 Annual Meet/50th Anniversary Gran Finale in Elkhart Lake, WI.
Class of 2013
Ken Hutchinson
Bill Markley
John Lundin
Gerry Sutterfield
John Delamater
Larry Nicklin
Dick Merritt
Tom Caulfield

And:
John Hurabiell
Rick Race
Paul Gilpatrick
Sherry Lindberg
Ed Gilbertson
Pat Current
Chris Current
Dave Seibert
Bob Coates
Tom Williamson
Giorgio Cavalieri
Class of 2014
Steve Ahlgrim
Don Ambrose
Al DeLauro
Marv Landon
Pietro Castiglioni
Sam Smith
Class of 2015
Casey Clavin
Betty Ebert
Bill Ebert
Mike Epifanio
Class of 2017
David Williams
Nominations for the Class of 2018 will open March 2017 and will close on January 1, 2018.
Criteria for Induction into the Fellowship of the Cavaliere. Cavaliere is someone who has provided outstanding contributions to the FCA through:
continuous enhancement/benefit to the membership experience,
significant improvements to the Club's governance, and/or
other very significant activities which have become part of the Club's history;
and
is a living current or former member who has shown this outstanding commitment to the betterment of the Club for 9 years or more
To be considered for selection as a Cavaliere, the individual must be nominated by a current member in good standing using the nomination form provided, including a description of his or her outstanding service to the Club, and must garner votes from at least half of the Executive Committee.
While our 2013 inaugural group included more inductees than usual, in subsequent years, the number elected and inducted will likely not exceed five per year.
2018 Cavaliere nomination deadline will be January 1, 2018. Nominations for the Class of 2017 are now closed.